In the next article, we will introduce you to a light-weight anti-malware program known as ByteFence. We will go over it's most important characteristics...
In the next article, we will introduce you to a light-weight anti-malware program known as ByteFence. We will go over it's most important characteristics and will give you information regarding its pros and cons.
Introduction
ByteFence is an anti-malware program which is advertised as an all around protection tool which could detect potential attacks from Trojans, Worms, Spyware. The program also heavily focuses on dealing with unwanted bundled applications, Adware, Crapware, Browser Hijackers, etc. However, the security tool should not be seen as an ultimate PC protection option since it isn't a fully-functional antivirus program. Instead, the software application that we will be talking about here is more of a support protection tool focused on handling less harmful threats such as the ones we mentioned.
Installation
The installation of the program is quick and smooth and has no confusing elements. Supposedly, before there have been opt-out options such as optional change of the default search engine or of the frontpage of the browser within the installation wizard but currently, there are no such settings. All you do is click on install and once the process is finished, you can choose whether to directly launch the program or not – that's all. There were no bundled installs and no optional browser modifications which we believe is a positive trait.
Functionality
As soon as we launched the program, it started an automatic Quick Scan of the whole PC. It took about 20 minutes to finish and a couple of potential risks came out in the results. The detected files weren't harmful yet some of them could be considered suspicious (for example, a number of executables and .dll files) which is likely why the program detected them. What we noticed, however, was that during the Quick Scan, significant amounts of RAM was being used (1,5 GB on a machine with 4 GB of RAM). Of course, this is to be expected but it was worth noting.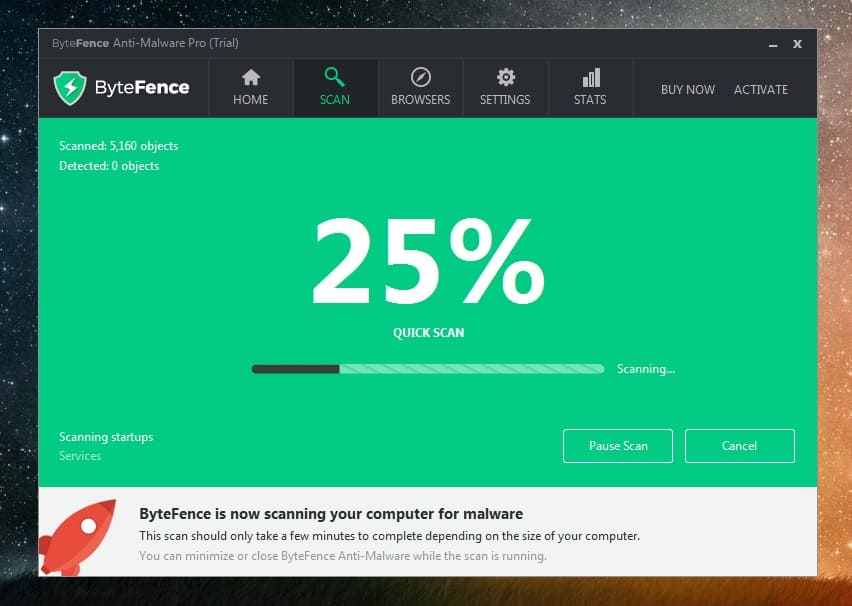 After the scan, we took a look at the program's interface – it is simple and easy to navigate without any overly-complicated settings. However, you would still get all the mandatory options that most PC protection programs tend to provide. For example, in Settings, you can schedule scans, manage quarantined files, manage update status and there is even a Gamer Mode. There are five sections/tabs on the program's interface: Home, Scan, Browsers, Settings and Stats. The one section that caught our attention was Browsers.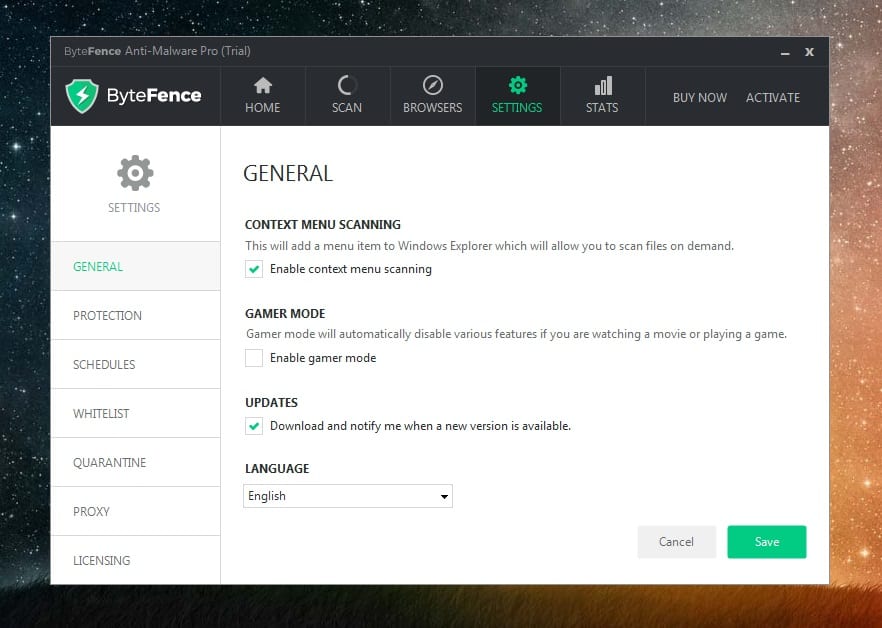 Browser Security
As we already mentioned, ByteFence focuses on dealing with programs such as Adware, Browser Hijackers and other forms of lightweight software threats that most commonly tend to target the user's browser. This is why it was nice to see that within the Browsers section, ByteFence provides a nice evaluation of the components of the browsers that are on the PC. In this tab, you can see the homepage of your browsers, their search providers and the extensions that they have. Next to each of those elements, you can see their security risk level according to ByteFence. For example, my Google Chrome frontpage has recently been changed by another application and the security tool regarded this as High Risk. This can be helpful since it enables you to quickly fix any such potential threats – all you'd need to do is check the element that is considered dangerous and then select Fix Checked – the program will automatically deal with the possible hazard and rid your browser of it.
However, on the downside of this feature of the program, only two out of the three browsers installed onto the computer were shown in the Browsers tab, the third browser (Opera) wasn't listed there -we are unsure whether this should be attributed to the browser or to the anti-malware program.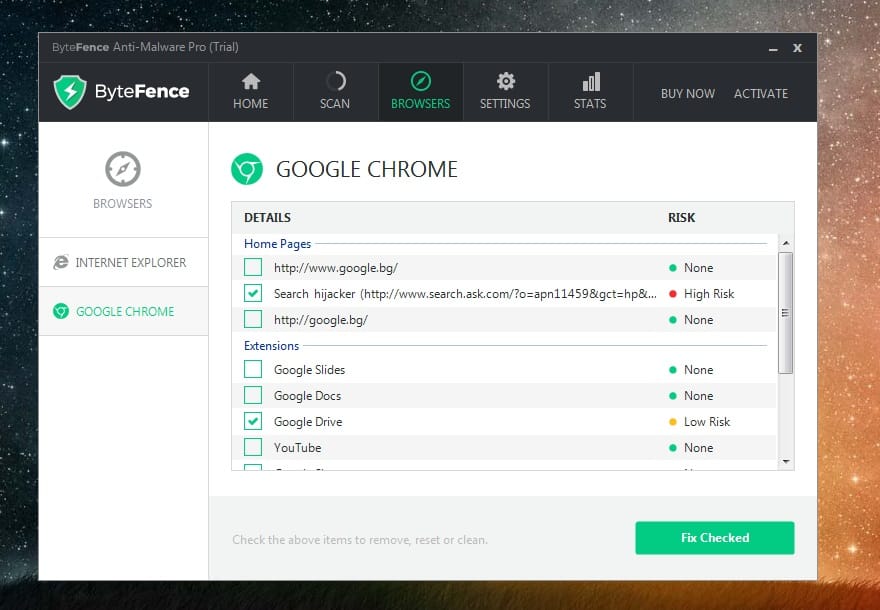 Real Time protection
The security tool also provides Real Time scanning protection in order to detect any risks which might be currently coming towards your system. The scans, according to the program's developers, are targeted at Malware and Crapware. However, there is no mention of protection against viruses such as Ransomware, which is why, as we mentioned earlier, one shouldn't solely rely on ByteFence in order to keep their PC safe – an additional antivirus program is required to stop bigger threats such as Ransomware.
Free version vs Paid version
The free version of the program is said to provide all the scanning settings of the program but without the option to use the tool to remove any detected threats. However, once we downloaded the free version, things were different. The program had full functionality and we were allowed to both scan and fix any detected threats. However, there is a 14 day trial after which the user would need to buy the full product if they wish to continue using the program. It is up to the individual's opinion which option is better, but it should be noted that the free version, as described on the official website of the software application isn't the same as what you get once you download it.
Summary
Pros
No bundled installs and no unwanted browser modifications during installation.

Clean and easy-to-navigate interface.

Low resource usage when not scanning.

Browser protection.

No ads.
Cons
Detects files that aren't harmful.

Might cause slowdown during scan on weaker machines due to high RAM use.

Might not detect all browsers that are on the PC and list them in the

Browsers

section.
Conclusion
ByteFence can be an useful tool for anyone who would like to add an extra layer of defense to their computer, especially against undesirable malware programs that might target one's browser. However, it should be kept in mind that the program might still come with certain flaws which need to be addressed and ironed out in order for the program to become even better at its job.
Boris
Writer; Editor
Boris is a writer and an editor of the articles on Malware Complaints. His mission is to provide the readers of our website with essential information and details with regards to various malicious programs, software viruses, potentially unwanted applications and any other form of malware that you, the users, might encounter. In addition, he also posts reviews of different programs and applications as well as news articles on various interesting and important topics related to the software world.