Bad Rabbit Ransomware uses a trojan called windows \ cscc.dat .(You can find our removal guide at the bottom of the article.) If you are one of...
(No Ratings Yet)

Loading...
Bad Rabbit Ransomware uses a trojan called windows \ cscc.dat .(You can find our removal guide at the bottom of the article.) If you are one of the many unfortunate customers who have had the bad luck of getting this nasty software on their PCs and are currently struggling to get cscc.dat off their system, we advise you to take a look at the next paragraphs as well as at our Trojan Horse removal guide below them. On this page, you will be able to find some highly important information with regards to this sort of PC viruses so make sure to read everything if your machine has gotten attacked by this harmful malware.
Characteristics of Trojan Horses
This type of PC malware is certainly one of the most infamous and widely-spread types of viruses and there's a good reason for it. Trojans, as a whole, are highly versatile and can be used to execute different illegal tasks once they infiltrate the targeted computer. A virus of this kind can allow the hacker behind it to gain remote control to your PC – all that is needed to accomplish that is running the virus file on the PC under elevated (administrator) privileges. If the virus gets run that way, there's pretty much no limit to what the hacker can do to your system. There are, however, several more common ways in which cyber-criminals tend to use Trojans and we will go over those uses down below.
Uses
Here's a short list of only the main ways in which hackers tend to utilize the Trojan Horse malware type:
Backdoor infections – You have probably all heard of the original wooden Trojan Horse statue from the Greek mythology that was used to infiltrate the independent city of Troy. Well, the Trojan Horse virus can be employed in a similar fashion as it could be tasked to download other malware onto your PC once it gets inside it. The user would more than likely fail to notice anything before it is too late. One particularly nasty example is when Trojans are used to get Ransomware inside their victims' PC. Ransomware viruses are yet another highly-dangerous virus type known for its ability to lock the user's personal files with a complicated encryption. The files remain locked until the victim pays a ransom to the hacker behind the attack.

System corruption – one of the reasons why Trojans are considered so dangerous has to do with the fact that they can heavily damage your computer system in a number of ways. If you have such a malware on your computer, the machine might start experiencing sudden errors, freezes, Blue Screen of death crashes and overall system slow-down. In some cases, the damage could be so severe that the computer might be utterly unusable.

Stalking/Spying – One other potential use of Trojans like cscc.dat is espionage. Viruses that belong to this category could have access to a wide variety of espionage techniques. For instance, the malicious program might be able to monitor your PC screen in real time or detect what you are typing on your keyboard (keylogging). Also, your webcam might also get hijacked and used for the purposes of stalking directly on you.

System Control – the hacker who has infected your PC with a Trojan might also try to take over your computer and command to to execute different tasks such as Bitcoin mining or sending out spam e-mails that contain the malware in order to further spread it.
Detection
When it comes to detecting and intercepting a Trojan in time, it is of utmost importance to have a high-quality antivirus on your computer. Otherwise, it might be nearly impossible to spot the infection in time if you solely rely on noticing the potential symptoms. The reason for that is the fact that Trojan Horses are some of the sneakiest and stealthiest of malware viruses. There are some potential red flags that might give away the presence of a Trojan on your computer but there's no guarantee that such red flags would actually be present. Therefore, if you don't have a good antivirus software equipped on your machine's system, make sure that you get one ASAP. That said, it is still essential that you keep an eye out for any potential infection signs such as frequent crashes to the Blue Screen of Death, sudden system errors or slow-down of your computer's productivity. If you notice any of these, make sure to further investigate the issue that is causing them as it might be a malware virus.
System protection
There is no better way for dealing with any sort of malware than ensuring that your computer is well protected against potential infections. To accomplish that, make sure that you are responsible when you go to the Internet. For example, if you keep away from sites with bad reputation and if you avoid clicking on shady ads/online offers or opening suspicious emails, your computer should be relatively safe. A general rule of thumb is to only visit online addresses that have been verified as safe and to never interact with anything that you see on the Internet which might be hazardous or threatening to your system's security. Also, as we already pointed out in the previous paragraph, getting a good antivirus is also a very important step towards making your PC as protected as possible. A specialized anti-malware tool can also greatly help you in that regard so keep that in mind as well.
Trojan Horse Removal Guide
Within the next guide, you will be given instructions that will help you remove the cscc.dat PC virus from your computer. However, before you start carrying out the following steps, we advise you to bookmark this webpage and have it opened on a separate device nearby (a smartphone,a tablet, another PC, etc.) as some of the steps might require a re-start of the computer.
Step 1: Safe Mode and Hidden files and folders
In order to increase your chances for success, you are advised to boot your PC into Safe Mode and to also reveal the hidden files and folders that are on it. If you don't know how to do that, here are links to separate guides that can help you: Safe Mode Guide; Hidden Files and Folders Guide.
Step 2: Task Manager
Use the Ctrl+Shift+Esc or the Ctrl+Alt+Delete keyboard combinations to evoke the Task Manager. Now, go to the Processes tab and look for anything that has the cscc.dat name on it. If there's nothing with that name, look for any processes that use too much RAM, have weird or no description and that generally seem suspicious.
If you find anything, right-click on it and select Open File Location. If you are sure that the process was malicious, delete everything in the file location directory. Then go back to the Task Manager Processes tab and stop the shady process by right-clicking on it and then selecting End Process.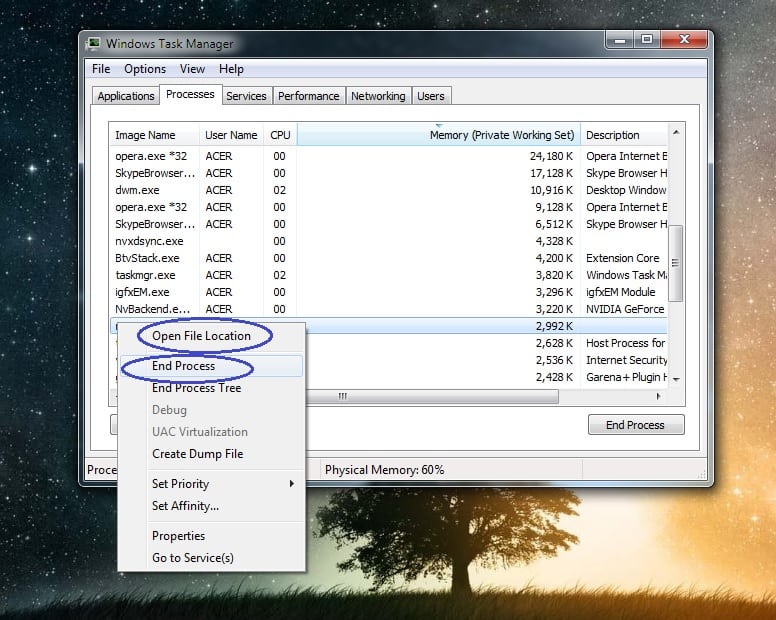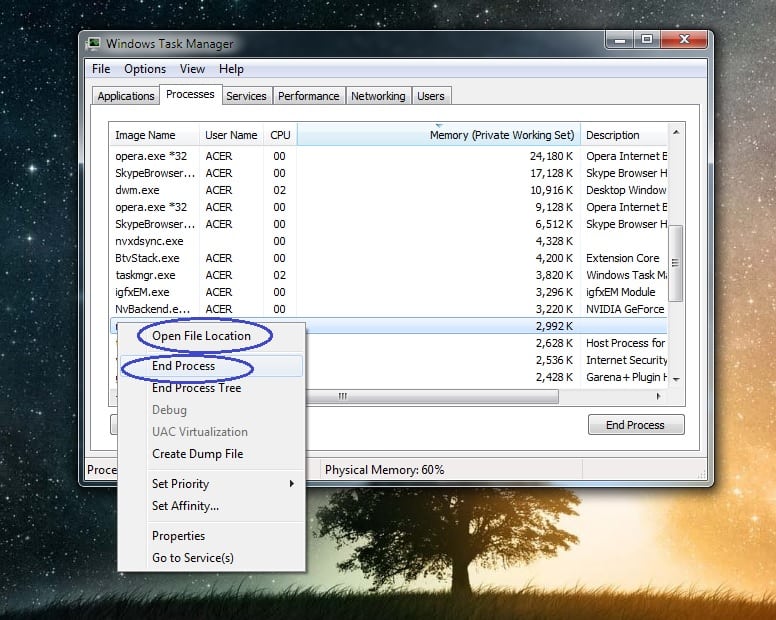 Step 3: Startup
Use the Winkey+R key-combo to evoke Run. In the newly-opened search bar type msconfig and hit the Enter button.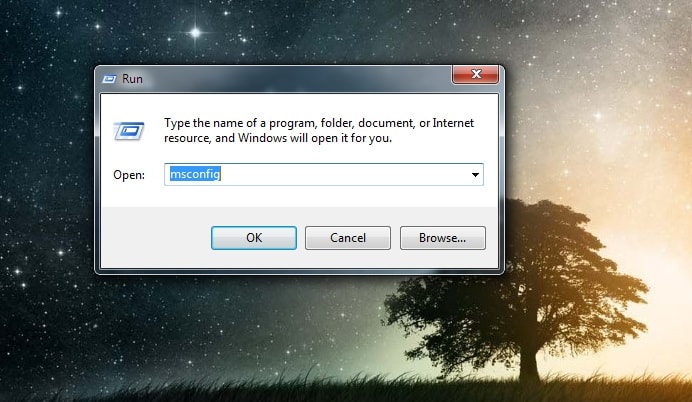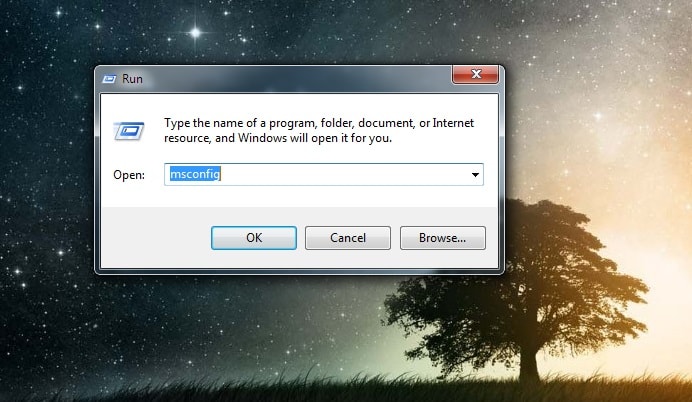 In the new window go to the Startup and look through the startup programs. If you see anything that looks suspicious (for example, has unknown or no manufacturer), remove the tick from its checkbox to disable it on startup and then select OK.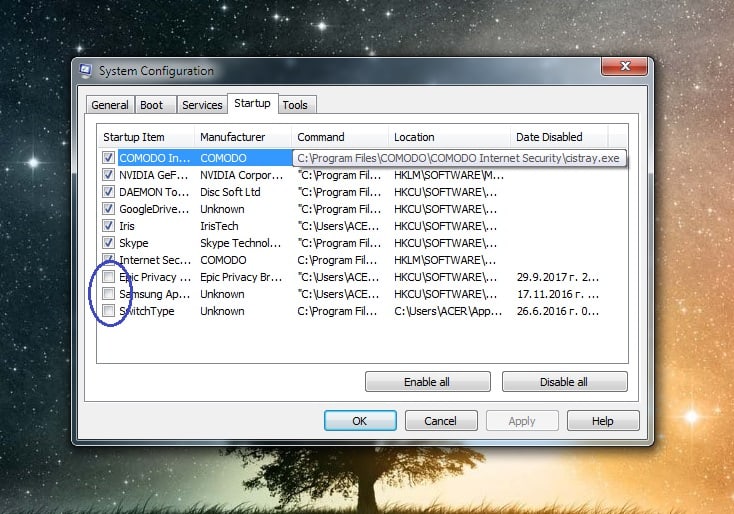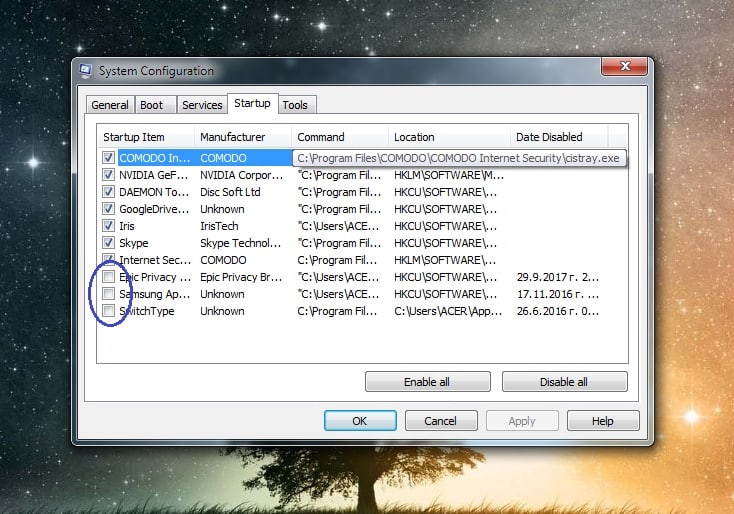 Step 4: Localhost
Type notepad in the Start Menu search bar and open Notepad. Click on File and then on Open. Go to the following folder c:\windows\system32\drivers\etc and open the Hosts file. If nothing appears when you get to the etc folder that can be opened, change the file type from Text documents to All files.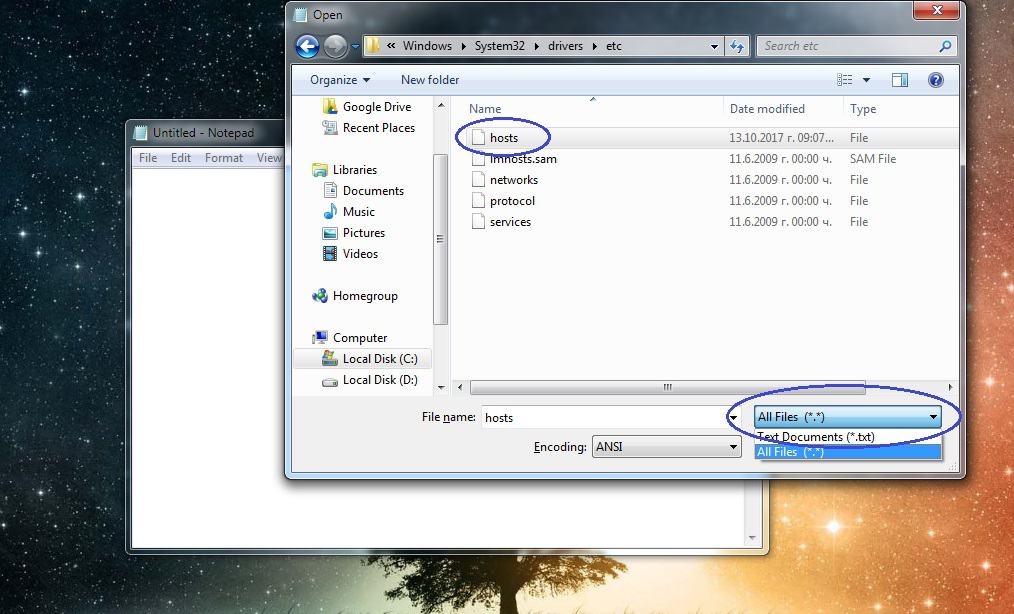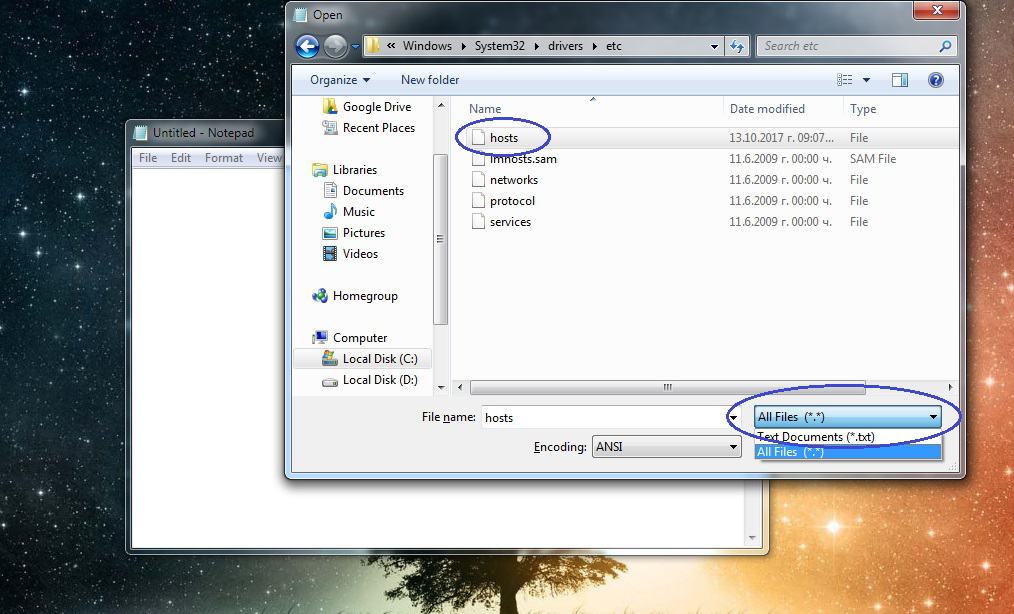 Now look at the bottom of the notepad file and see where it says Localhost. Take a look below that and see if there are any IP addresses there. If there are some IP's, copy them and send them to us in the comments section down below so that we can determine if they need to be removed.
Step 5: Registry Editor
Re-open Run and type regedit. Hit Enter and once the new window opens, press Ctrl+F. In the search bar, type the name of the virus and click on Find Next. See if anything gets found under the name of the virus and delete the registry keys and folders that come up as results.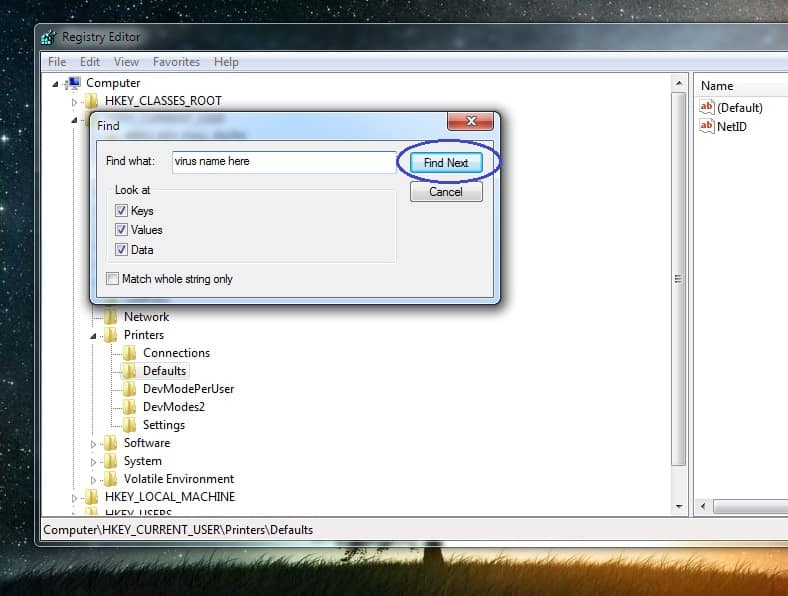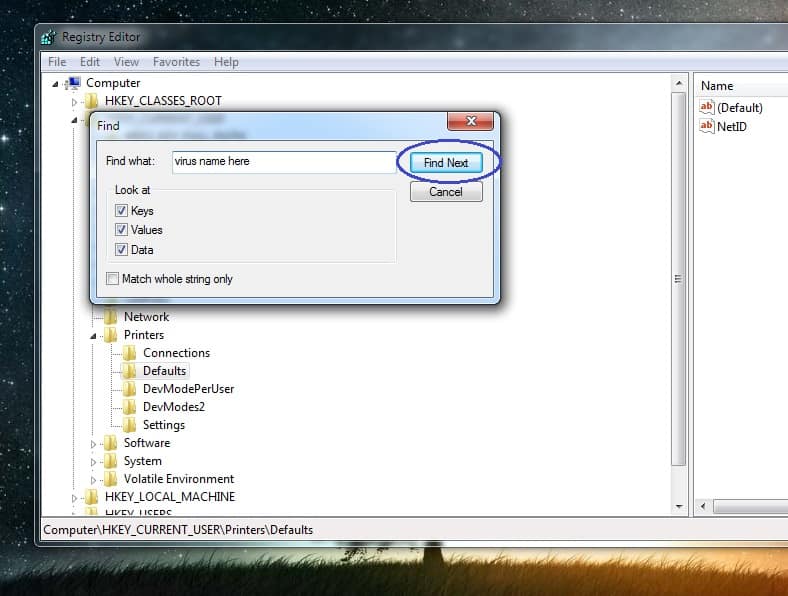 However, remember that if you delete the wrong registry key, it might do more harm than good to your PC so if you aren't sure, you'd better ask us in the comments below about what to do if you find anything inside the Registry Editor.
Step 6: Potentially hazardous data
Open the Start Menu and copy-paste each one of the following locations, one after the other and hit Enter after each so that the folder opens:
%AppData%

%LocalAppData%

%ProgramData%

%WinDir%

%Temp%
Open each folder location and sort the files by date (from newest to oldest). Now, delete the ones that have been created around and after the time your PC got infected. In the Temp folder, delete everything.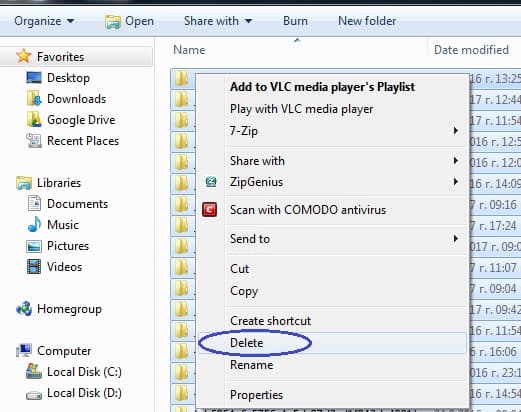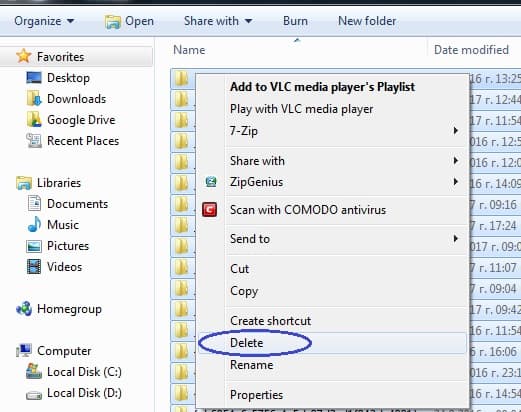 Did we help you remove cscc.dat? You need help with any of the steps or you simply want to give us your feedback? Feel free to leave us a comment down below – we highly value the communication with the readers of our content!
Boris
Writer; Editor
Boris is a writer and an editor of the articles on Malware Complaints. His mission is to provide the readers of our website with essential information and details with regards to various malicious programs, software viruses, potentially unwanted applications and any other form of malware that you, the users, might encounter. In addition, he also posts reviews of different programs and applications as well as news articles on various interesting and important topics related to the software world.